THE LAST DAYS OF JAMES BALDWIN'S HOUSE                                                                            IN THE SOUTH OF FRANCE
From an article in Literary Hub by Magdalena J. Zaborowska, taken from the book, Me and My House. Lit Hub Article
The house and James were visited by the likes of Miles Davis, Nina Simone, Stevie Wonder and more. This from back in the day when artists gathered for informal salons not called anything but visits. As was it the same when Gertrude Stein held court in the rooms of her home, and Alice B served the company.
The article is well written, as are most all of the Lit Hub publications. Zaborowska writes well and includes enough tantalizing information to make us search out the book. (It has been immediately added to my wish list.) Make no mistake, though, it is not about literature or the oeuvre of Baldwin. It is about the architecture, and its destruction, and its loss. PLACE looms large for both the writer (Baldwin) and visitors.   
Inside the house—Chez Baldwin, in  the south of France.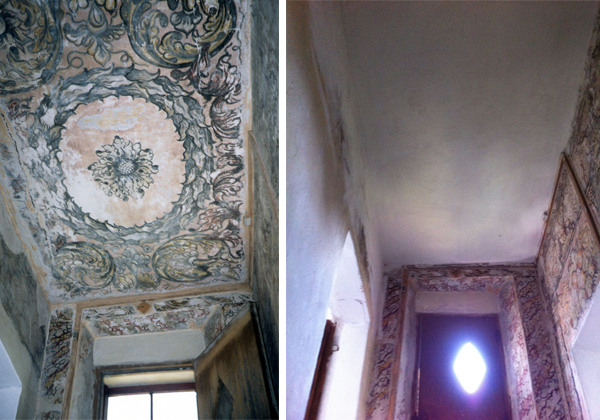 The ceiling in 2000 and 2014. Photos by Magdalena J. Zaborowska.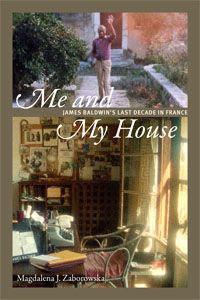 From Me and My House: James Baldwin's Last Decade in France. Duke University Press. Copyright © 2018 by Magdalena J. Zaborowska
I first encountered the writing of Baldwin in Giovanni's Room, several years ago. As has often been the case for me, it was an accident. One of those: it looks interesting, oh what the heck, might as well buy it. At that point I had not heard of the man, or anything he was about. He was well known in literary circles, but not close to any circles of mine. I soon became a fan and began the read of what was already out, and the books, essays and social commentary that followed.
James Arthur Baldwin was born in Harlem, New York city, in 1924. He died of stomach cancer in 1987, at Saint Paul de Vence, France. He is now considered of major importance in the voice of racial, sexual, and class distinctions, and a major writer of the 20th century.